Gluten Free Frenzy is being featured today on Simply Stacie, an amazing giveaway and review website. Be sure to check it out!

Also, be sure to check my new company, Diaperstyle.com, when it is featured on Simply Stacie's kick off day of her Baby Extravaganza March 1st.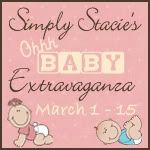 Your ads will be inserted here by
Google Adsense.
Please go to the plugin admin page to set up your ad code.